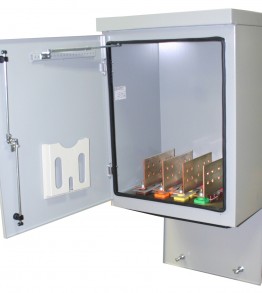 Lake Shore Electric offers Quick Connection Cabinets for use with portable emergency generators, or for connection of generator test load banks. These generator or load bank "docking stations" are offered in ratings up to 4000 amperes, and feature NEMA Type-3R enclosures (available in steel, aluminum or stainless steel), hinged access panels and male Cam-Lok connectors for the portable equipment.
The Quick Connection Cabinets can also be incorporated with an outdoor manual or automatic transfer switch to provide a turnkey solution to electrical contractors.
For pricing or to inquire about a special configuration, please contact Lake Shore Electric directly.